From the Archive: The messy truth about running a business
Hey babes! Lauren here!
Every once in a while, I go back and look at content from my original blog I started in 2015, What is Perfection.
This was the space I came into my own, documented my vulnerability and first got real and raw with my audience.
I wrote this blog post back in April of 2017, and it was so powerful, I felt deeply inspired to bring it back to life for all of you!
Enjoy this post!
---------------------------------------------------
Anyone who ever tells you that it's easy to make six figures running your own business needs a good old slap in the face. It's not. It's the hardest thing ever. Next to childbirth.
It was hard for me. Although I've never had a baby so I have really no idea how hard that thing is, I can tell you that getting my business to where it is today was the most challenging obstacle I have ever overcome in my life. And if you know me by now, you know I have been through a lot.
Lately, I have been getting those messages from people wanting to know how they too can launch and thrive in their own creative space of entrepreneur life. And it's always a question that I am excited to answer, but also have no clue how to answer at the same time.
"How did you get your business off the ground?"
and
"What did you do to make VIP as successful as it is today?"
If these are the questions I am getting now at this stage – I can't wait to see where I'm at in five years!
I am always excited to answer questions like that because – well let's face it – I messed up a LOT in my life. Now that I finally figured out the right stuff to do – it's kind of cool to talk about it and share it with the world. And I am always up for talking about the good stuff to celebrate how I got here. But trying to answer those questions is also really confusing for me too.
Where exactly do you want me to start? And Am I really successful? Is this it? Like.. is this the real deal now? Can I relax and take off my lady boss pants, put on my pajamas and binge watch Netflix for the rest of my life? Yes! Finally! Success!
It's time I get real with you guys about the questions – and give you the answers bold and raw. Do you run a business? Are you trying to launch your own brand? Listen up. This post is for you.
I see ads on my Facebook all the time – "Make your first 10K" and "Learn how to create your first six-figure launch," – I some times wonder if whatever they are teaching is what I am practicing. Do I run my sales funnels the right way? Do I network and advertise my programs properly? It's really easy at this stage to fall into that trap of constantly trying to figure out if you are doing it right. Well, guess what. You are doing it wrong. All of us are.
So here's me telling you everything that I know and believe about running a solo business. The truth. At least the truth for now. This is everything I wish I knew back then when I started. And some of you out there may not believe the advice, or take the advice or even listen to it. But here's my advice on that (lol) – take the parts that work for you and leave behind whatever isn't valuable in this post. Consider it practice for the mindset you should have running your own biz! Taking what works and leaving behind what doesn't … you are gonna have to get used to doing that a lot. Okay. Here we go.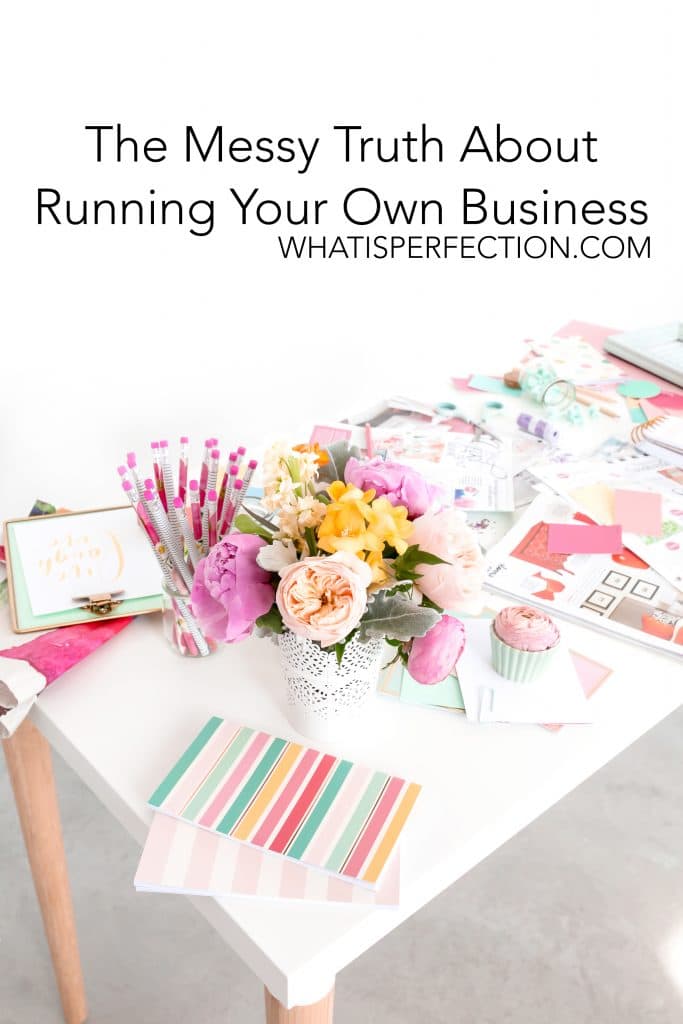 -Numbers Are a Big Lying Sack of Poop. I used to sit around and count the dollars rolling into my bank account each month. In fact, talk about nerding out – I used to keep a chart where I would track my income each month just to make sure I was improving and growing at the rate I was "supposed to be." I still have no idea what the heck that rate was. And it wasn't just money numbers. I would do this with social media numbers, page followers – everything. Seriously, every month I would track my income, my ad revenue, my sales, my Facebook followers, my Instagram followers, my number of email subscribers, my website visitors. I mean seriously. I had this ridiculous excel spreadsheet that I was keeping track of to document all of my growth. I promised myself that every single month would be better than the month before – and yes. I had to be better in each of those categories. It was…. exhausting. And ridiculous. And pointless all at the same time. Why was I doing it? Because in the beginning – I wanted to make myself believe that I was achieving success – and for me at the time – I thought that meant money. You see… when you start a business everyone shames you. Everyone tells you that you can't or that it's going to be hard or that you are crazy… and so that really weighed on me in the beginning. And if I had the numbers to prove I was successful, then I could finally say "YES AH HA! See! I LOOK WHAT I DID!" It was pointless. Stop it. Stop it right now. Your numbers have literally NOTHING to do with your success.
-No one gives a shit about your success so stop obsessing about "not failing." Let's just roll into this one since it's on the tip of my brain here. Yeah. Stop obsessing about NOT failing. And if you're obsessing over not failing because you don't want to be a failure to other people, well Stop even sooner, please. If you run your business paranoid about making all the right choice because you don't want to fail – you might as well quit. You are going to fail. And people are going to see it. You are going to make big messy giant failures that people will laugh at and make faces at and hey – guess what – it's their problem, not yours. Because while they are sitting around playing "same old life," you are out there learning from whatever that big failure was and making even better decisions for your business. What they think means nothing. They are not you're ideal client and they don't own your "permission to success" ticket. Let them go so you can grow. Which brings me to my next point.
-There is no right way to do anything. Remember those ads I mentioned before? The ones that show you how you're doing it wrong? Yes. Like I said. We all are. But here's the thing. So are they! I work with a lot of clients who are trying to market their businesses in the online space. And they tell me "So and so is doing this," and so "so and so is doing that, should I try it?" They spend so much time learning what others are doing that they spend so little time trying to figure out what works for them. Don't be on twitter because you're "supposed to have a presence there." Be on twitter if it works for you. And if it doesn't, F it and move on. Oh… and another thing.
-What Worked 2 years ago will get you nowhere today. I used to spend hours trying to study successful online bloggers – how did they possibly grow their audience so big that they could make a living off of ad revenue? Well.. Those bloggers? They've been in the market online since before the internet was even a thing – And so now – 10 plus years later – they are thriving. Do you want to wait ten years to afford food on your table? I don't think so. Stop looking to other people and do what you notice works for you. Develop your own method. Create your own sales funnel. Come up with your own marketing strategy. Success leaves clues so finding people who are successful and modeling them is definitely a bonus -but don't use their practices as a cookie-cutter way to create your own business.
-If you aren't sharing your life you're failing your business People WANT to see you. And they want to see your shit. It doesn't matter what you are selling, what product you rep or what shake you drink (sorry fitness MLMs) What matters is YOU. your client isn't buying an awesome product. This isn't 1950. There are awesome products everywhere. This is the land of amazon where you can literally get what you want delivered to your door. No customer is going to buy your product just because it's awesome. They are going to buy into whatever you are selling because they resonate with the story you tell and the personality you have and the things you have overcome to be the person you are today. Because that's what THEY want. People want to level up – so if you don't show them you are leveling up in your life too – then what's the point?
-If you are feeling emotionally disconnected to what you are creating/sharing/posting about – your potential clients will be disconnected to it too. "my upline tells us to do this," and "my upline says I should be sharing X amount of photos per day with the shake or the workout or whatever." Does it make you feel good? Does it feel authentic? Does it resonate with you? If the answer is no, guess what – that system is dead for you. Kill it. Say goodbye. Don't go back. You should never be trying to be something your not. And btw isn't that totally the opposite reason of why you became an entrepreneur right?
-You should never have to hound hunt or private message randos about your business to make your business work. If you are doing it, you are doing something wrong. your business is not a telemarking service. Stop running it like it is. When you show up to serve the community and be that shining light for people who need your help – then your clients will randomly appear!
-Entrepreneurs need to be spiritual junkies. If you have no faith in God or have little spirituality out there and your hustling running your business – I am so sorry for you. I don't care what faith you have – just find one and hold onto it. Entrepreneur life is a rollercoaster. Go get a spiritual practice. And hang on tight. You're gonna need it.
xox
GET THE WEALTHY WOMAN WORKSHEET
Start building your dream business ASAP.