Want to see something cool on my instagram?
Explore this page for some of my recommended tools, goodies, and favorite products on your business, self healing and spiritual journey! Explore the page for some discount codes too!
The Business Babe Workbook
Written by me, Lauren Eliz Love
A while back, when I was operating under my OG title of "Business Babe," I made an incredible workbook that transformed so many women's lives. It's available on Amazon and even though it talks about my old company, Business Babe, It's still an incredible tool for creating the business of your dreams!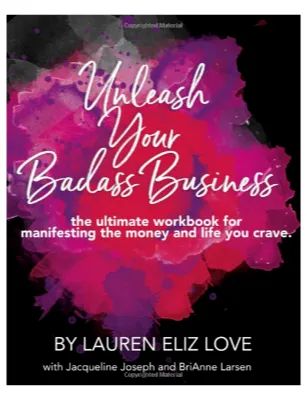 Ceremonial Grade Cacao
The only brand of Cacao I will ever work with! Straight Guatamala and infused with a lot of prayer, click the button to get a discount and learn how I make cacao!
Visit my page about Ceremonial Cacao
Ceremony tools, Hape', & More
This is one of my favorite shops to get my shamanic tools for spiritual ceremonies. Order Hape' and other incredible items from a reputable source in right relation with the tribes! Use code OFLOVE at checkout and get a discount 
Checkout the FourVisions Marketplace
My favorite online medicine shop
My favorite place to shop for medicine drums, palo santo, sage, and more
Explore Shamans Market
Red Light Therapy 
I use my red-light regularly and I feel like it is a total game changer for my mental health! I highly suggest it and recommend. use code REDLOVE at checkout for a discount 
Get a red-light for therapy & healing
Intentional Jewelry
The only jewelry I wear these days is from Awe inspired. The energy of each piece feels so special, the quality is incredible, and I absolutely setting intentions for each piece I own! Use code LAURENOFLOVE at checkout and get a discount 
Checkout the Collection
My coffee enema protocol
For one of my favorite heal and wellness products, get a discount on any at Happy Bum Co using code OFLOVE at checkout!
Explore the Coffee Enema Shop
This entire site...
is run on Kajabi. And I could not recommend them highly enough.
Get started with a trial here
Instagram Strategy
Get my software for automated conversation lead generation support on your instagram
Checkout Many Chat
Train to be a certified coach!
My friend Ashley runs an amazing certification for life coaching. Tell her I sent you! Her program is amazing.
Checkout QCA